At Commucore we can provide a number of online solutions to generate leads and communicate your value proposition to them:
Website Production
There are now more WebPages available online than there are people in this world to enjoy them. What puts your site above the rest? Our web projects focus on communication. Clarity and ease of use are essential in getting your message across and building relationships. Our designers use this precedence to guarantee that your customers feel cherished, not confused.
Mobile Presence
The next wave of internet devices have cut their wires and a new era of constant connectivity has begun. Through our services you can begin sharing your message in this new wireless world.
Online Advertising
The last generation of online banner advertising has ended quite some time ago. The next generation of interactivity and intelligence features to start the relationship process off right is here. We can provide design, backend and strategic support for a successful campaign.
Social Media & Email
Creating a corporate persona and setting it free via social media can stoke the buzz of your latest market offering. Why spam when you can Ala Kazam? By tying your direct emailing campaign to customer's inquiries and stated interests you can greatly increase response rates and turn inquiries into profits, just like magic.
Streaming Video
For over fifty years television and movies have communicated countless messages to captive audiences around the globe. Why not put this highly visual media to work for you. Live online demonstrations and product rollouts can make your global customer feel like they're right there with you and provide added clarity to your offering.
Podcasting / Broadcasting
Special interest groups consisting of early adopters can be powerful marketing tools. Why not cater to your first movers and give them a community they can be a part of? By providing them with information and a forum for input, these customers can be instrumental in leading your product offering to success.
Backoffice Applications
We know what interactivity means and we plan to use it to build your business though superior customer responsiveness. Customizable content, instant responses and meaningful information are what add value to your online presence. Let us show you just how close you can get to your customers.
The latest in Open Source technology has provided some great business systems that can help your business run smoothly, and present your hired team as a unified service delivery machine with real-time information about your customers at everyone's finger tips.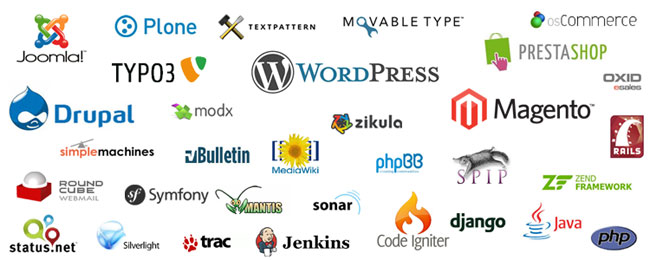 Customer Relationship Management (CRM) Systems
If your sales team works with complex sales cycles, or a large volume of leads and then has to hand their buying customers over to a service delivery team, then a good, always-available-from-anywhere, CRM product can ease the flow of information and optimize your business efforts. As you know, making sales is often a product of consistent follow up and the establishment of trust; At Six Mile Media we use our experience implementing low cost, high availability CRM systems and work with our clients to automate and maximize their sales reach.  All while ensuring sales support staff and service delivery teams are given what they need to provide a seamless experience for your customer.
Service Delivery Systems
Companies that are very good at making sales can, often times, have difficulty accurately tracking costs for service and product fulfillment efforts. When these efforts are largely centered around labour time, a good service delivery tracking system can help fill in this side of the business equation.  Simple time tracking and task logging software can allow decisions to be made based on historically accurate information.  Service Delivery systems also help information flow between your teams, managers and most importantly, to your customers. At Six Mile Media, we can help show you how some of today's Open Source systems can greatly ease the burden of checking on the status of your works in progress, what your future quotes should account for and which customers remain profitable. All this, while also easing the day-to-day effort of keeping customers up-to-date on the status of their orders or projects.
Corporate Intranets, Internal Communication and Knowledge Bases
As companies grow or geographically spread there is often a need to improve internal communication and log corporate knowledge for future reference. Today's Open Source movement is truly rooted in tools that do just this. At Six Mile Media we find implementing interactive intranet systems can be one of the best return on investment choices a growing company can make. This is firstly due to these systems being so inexpensive to get up and running and secondly, because when coupled with changes in meeting practices, the gain on visible accountability between team members can strongly focus efforts on what really matters in your business and keep everyone rowing in the same direction.